« Body Mass Index Chart – Weight Chart | Home | Hypnosis and Tourettes Syndrome »
Tired of Yo Yo Dieting The Hypno-Band Weight Loss System could change your life forever.
Imagine having the results usually achieved by having a surgical Gastric Band fitted without having to go through surgery, and spending thousands of dollars!
Gastric Band surgery is not for everyone, but the Hypno-Band can be for anyone with a BMI of 30 or above with approval from your medical care provider. A surgical Gastric Band works by reducing the size of the stomach and therefore you eat smaller portions and feel full. Through this method it is possible to lose weight easily. The surgical method does have drawbacks however. It is very costly, typically costing $6000 to $10,000 The Hypno-Band Weight Loss System is carried out here at St. Petersburg Hypnosis Center over Four to Six Sessions with our Certified Hypnotherapist at a much more affordable price. Below is a picture of what a gastric Lap-Band ® would look like if surgically placed. Notice the port that is used just under the skin to inject fluid in to adjust the lap band for a proper fit. Fluid can be also removed later to allow for more food to pass through the canal.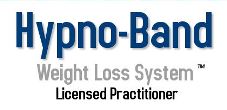 What if you could have all the benefits of a surgical Gastric Band, without the surgery and cost? Well now you can! By using the Hypno-Band Hypnotherapy system we create a state of mind where you will believe in your subconscious that you actually have a Gastric Band fitted! You will eat smaller portions and feel full. The Hypno-Band Weight Loss system is a long term solution to your weight problems.
Topics: Weight Management |